Today is my mom's birthday! So since I didn't get my act together and actually send her a card. I thought I would at least make a Happy Birthday Card on her birthday and send her a photo (that counts right?). It was originally supposed to be in her favorite color and mine. But I messed up the cut on her favorite color so I had to improvise!
To start with gather your supplies. Mine were 3 pieces of cardstock, foil quill, foil, foil quill magnetic board & mat, cutting mat, Cameo, tape gun, design. My design was from Single Line Fonts (click here to purchase this design), Leslie the owner and designer, is a friend of mine and generously gifted me this design. You can get it by clicking the link for $0.95!
I chose to cut my purple page to size and then use the foil quill. In the end this maybe wasn't the best decision. I found I had to modify my card design and things just didn't line up perfectly. So I recommend letting the foil quill do its work and then cutting the page to size. For something like a square or rectangle you can simply remove the page and use a paper cutter, therefore not marring your magnetic mat.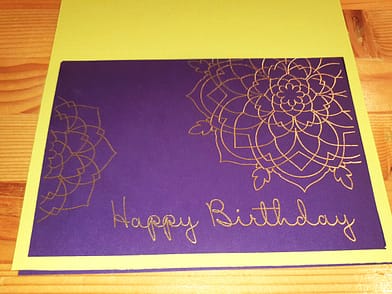 Once your foil quill design is done. Cut your card base out. My card is 5″ x 7″ and I made it by simply creating a 5″ x 7″ box in Silhouette Studio and then making a duplicate and putting it on top of each other. Then I welded them together. Next I added a dotted score line where I wanted the fold to be. Be sure the dots aren't on the edges, this will mess up your card and look bad. I then made another box that was 5″ x 7″ and opened the offset tool and had it make a box that was 0.25″ smaller all around. This should have been perfect but as you can see above didn't quite work. I did make a second one with the black paper where the inside box was smaller still by another 0.125″ and that worked beautifully. Below you can see my card base design and send panel for cutting the cardstock.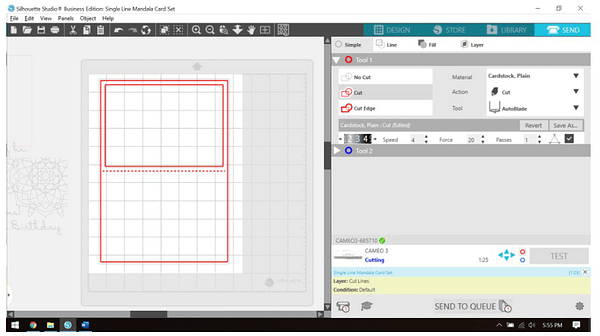 Once your pieces are cut to size, you are ready to assemble. First fold your card base at the dotted score line to get a clean fold. Be careful here, you don't want to accidentally bend the frame part which is a bit delicate.
Once your base is ready, add double sided tape (it needs to be thin) to your foil quill piece. Be sure none of the tape has gotten on the back, since that will be seen and it is not too large to be seen on the edges of the frame front. Now with your card base open, double check which direction your foil quill insert should set, line it up and place it down. Once its placed nicely, push down on the top to really make it adhere to each other.

Since I messed up my original cut of the green and ended up with a black card base, I opted to add a peek of green in the "writing" portion of the card. You could totally foil quill that and add a saying or note, I chose to leave mine blank, because i like to hand write something nice when I send a card.
To do this step, simply cut a piece of colored paper or cardstock about 0.5″ (0.25″ on each side) smaller than the card base, then take your double sided tape and tape the edges and I like to add an "X" to the back too just to make sure it stays down. Then carefully position it on the inside of your card on the right hand side. The inside will then have purple and green over the majority of the black.
Congratulations! Now you have a fully completed card!! And you can give someone on their special day!!! I can't wait to play more with paper crafts. I have been learning a lot about them lately and the possibilities are endless. And I have to say my foil quill makes doing cards so much more fun! Show me what your favorite cards you have made are!!