I am beginning to work on my health and nutrition and a big thing with that is consuming enough water. I honestly just typically forget to consume anything, so for me it is purposefully taking time and energy to break from what I am doing to go drink water and eat healthy. With that in mind, this week, I wanted to do something to motivate myself. I have tons of cups and tumblers but I found this iridescent tumbler on a recent Target trip and had the perfect project in mind. Turning this once plain iridescent cup into a mermaid drinking fountain! And here is how you do it.
Create or open your file. I had similar files available that I could have easily adjusted to use for this, but I always like putting my own touch on a design. So I chose to create my own. I started by making the mermaid tale and decorating it. Then I added my words. For Every & Needs I wanted it to be fun but the same font. Mermaids had to be in a mermaid font I own, and it even has the fun tail at the end in the glyphs! Water took some trial and error and the dots around it were glyphs from the mermaid font. After spending some time figuring out fonts and design. I was left with this: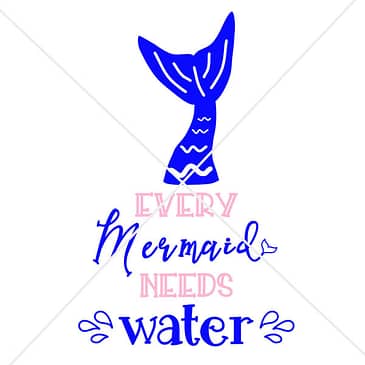 For a tumbler that is tapered you need to adjust for the "warp". First size the design properly for your tumbler, this one I wanted the design to be about 6″ tall. Then in silhouette studio this is a very simple process of measuring your cup. Opening the warp tool and inputting what you want. For my design I did this only with the font part of the design, as I didn't want any changes made to my mermaid tail. Once you have it all setup you hit "apply" and the program conical warps your design.
Once the warping occurs there is no changing font or design. So you want to select and group words and then by color. Line your design back up. And then split your colors simply select all of one color and group them and put it on your design cutting mat so it's ready for your cutting machine. I was able to put both colors on one mat so I only had to send to my machine once. My cut settings in the Silhouette Cameo 3 for opal adhesive were blade: 2, speed 3, force 8. Be Sure to have room to test cut!
I was using Rose Gold & Blue/Green Opal vinyl. These have the same iridescent feel as the cup does. Something to consider with colored and specialty vinyl is what is the color on the back. This is mostly a clear tumbler and would be seen from the other side, therefore my initial choice of a white pearl would not have worked because it has a plain but bright white backing. Be sure to consider your projects from all angles before starting.
Once you have your project cut out of the adhesive vinyl, you will need to add a mask or transfer sheet. There are so many options when it comes to this but today I used clear grid transfer tape from Siser. It allowed me to see clearly what I was putting on the cup and if I was straight. I chose to do this cup in two steps instead of layering on my transfer tape. Mainly because my backing for the Rose Gold Opal was being mean and I didn't want to ruin my vinyl. Sometimes we have to adjust when things don't cooperate. Many people use registration marks or boxes to line up layered designs and when doing more complicated projects I do as well, for simple words I find eyeballing it is good enough.
Once you have masked and squeegeed your vinyl onto the transfer sheet you will remove the white backing page. This will leave you with just the decal on the sheet. You can now apply it to the cup. The only preparation I do to the cup is wipe it down with alcohol to remove any residue or oils that may be on it from handling.
A tip if you aren't confident on just "sticking it down" is use the paper backing from the transfer tape until you get it just right and tape in the center and do something called the hinge method to apply. However with this particular type of vinyl I wanted to put the least amount of stress on it.
Now you have your decal on your and you need to apply a good amount of pressure pushing it all down. You can certainly use a tool but your thumb or finger is often the best bet on tumblers. I usually go over every area several times with a good bit of force. Once you have done that you will want to remove your transfer sheet. To do this I recommend peeling it back on itself and slowly. That way you can catch any piece that doesn't want to stick nicely and push it back down, once the transfer sheet is removed, I go back and push everything down gently for good measure.
And then here is the really HARD part.
LEAVE IT ALONE for 48-72 hours!
I know right? That seems unfair. But the adhesive now needs to cure and bond with the cup. This takes a bit of time and most adhesive vinyl need 48-72 hours before they are on your cup. Once that time is up though you have an awesome new water cup that will hopefully motivate you to drink more water!