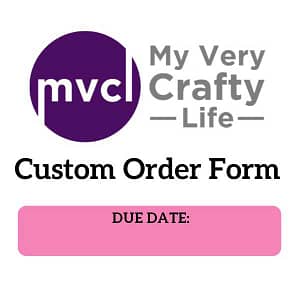 This post contains affiliate links from Amazon. What that means is you don't pay anymore but we may get a small commission. Full Details can be found here.
Many businesses use what they call "Best Practices". They utilize their people to come up with efficient and purposeful systems to streamline their operations. Now you are probably wondering what the heck does that have to do with crafting or organizing. Well I am here to tell you that the habit of Best Practices is something I will be touching on routinely to help you find the best way for you to not only stay organized but not drop the ball for gifts, orders and so much more!
Create an efficient and purposeful system to streamline your operations.
This week I want to discuss a best practice for Crafting Businesses and that is Order Forms. No not the ones you make so someone at a craft fair can fill it out and place an order but ones you use internally. Internal order forms are a best practice in many types of businesses for a really good reason. Not only do they help you keep track of orders and payments. But they can also help you streamline your efficiency. I spoke here about keeping your orders organized, and this is simply another great practice you can use!
If you aren't a business but still create beautiful things for gifts or donation, this can help you track your expenses and keep you on track! The due date could be in time to ship it for their birthday or when you will see them next! Don't limit yourself not using this because you aren't making money off your creations.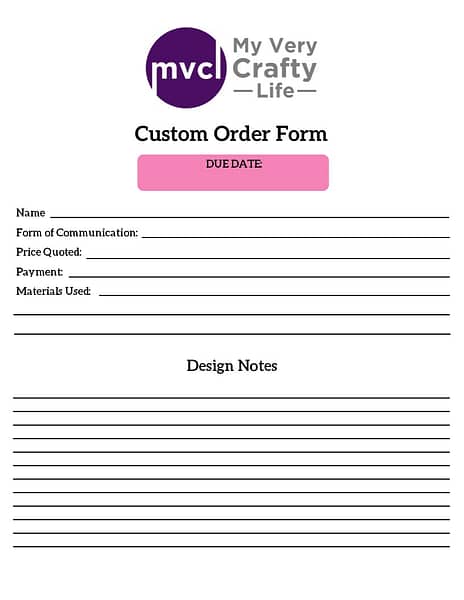 I have implemented this custom order form in to my business. I utilize it along with a WHITE BOARD that allows me to see orders at a glance in my space as well. Each and every order will be getting an order form. This is where I will note their name, due date, form of communication that they prefer, how much I quoted them, what does their payment look like (deposits, etc), what materials I used and finally design notes.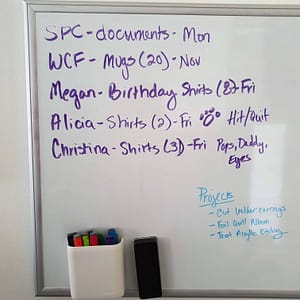 While several of these categories are very obvious like name and due date, I want to explain why I have added sections like payment and material used.
Payment Section Breakdown
Payment is where I will track not only if they have paid but what they have paid. I typically request 50% non-refundable deposit and then the 50% balance on/before delivery for corporate or business orders. Then for personal orders I request paid in full before an ounce of work occurs. These are much smaller amounts and would be harder to track having 50% here and there, so logistically it's just easier. I will also note on here HOW they paid. That lets me download or record exactly where the money is when I create their invoice. Now this is all just for internal use. My customers would typically never see these.


Materials Used Breakdown
The next section is materials used. Here is where I have added this section recently. I tend grab post it notes or something handy when I am making a project to note exactly what I am using. Now I can simply pull this form out instead and write it down. Being realistic I can foresee post its getting stuck to order forms as well. But that's real life and for the most part gets the job done. I can then use this section to update my inventory and finalize their invoice.
Design Notes Overview
The last section I have Design Notes. Often my customers send me photos or ideas and I can note them down here. Since I typically do all of my own design work, I can also jot down my ideas here. This gives me an easy place to see all of that at a glance. Now I still may have to go back to the email, text or private message they sent me to see what they sent but I can remember the salient details here easily.


Free Download
Now Best Practices are meant to be shared. So here is a PDF without my brand on it for you to use! I would love to hear your best practices in the comments or on my Facebook Page!