If you craft with any machine, you will have digital files. They are quickly and easily accumulated, they also seem to multiply when you aren't looking. Starting with a great system is easier than fixing a bad one, but any time you get your files organized you will find it easier to work and craft. Not to mention save yourself massive headaches and nightmares. My system takes away the "oh crap where did I put it".
I keep all of my graphics on a Solid State Hard Drive by Samsung. It is tiny and portable and has worked incredibly well. This means if my computer crashes or I am in a class or conference, I still have access to all of my files I have purchased or been given. I create a lot of files as well, these are saved to both my computer and the external hard drive, because if they are lost I have to start from scratch.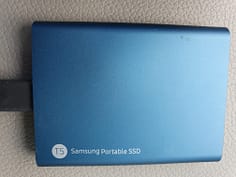 I have tried countless systems for digital file organization and I think I have finally found the one that makes the most sense for quick access and also allows me to know where it came from, which allows me to know what legal rights I have to the file.
Individual files when purchased or obtained for free are immediately downloaded and renamed. Many designers name things like Z0001-AB and that doesn't tell me what the file is and I don't want to have to open them all to see, so I unzip the file, open it, and rename with something that tells me what is in the file. If it is a saying like "Suck it up buttercup" I will name it that, if its an object I use descriptive words, example "Decorative Heart" for a filigree filled heart. After my basic description I add a space "-" and an abbreviation of the company used. I receive files from Mandy at Sparkleberry Ink through her box subscription, one of hers is called "Vacay Mode", my designation is "Vacay Mode – SB", file name – abbreviated company.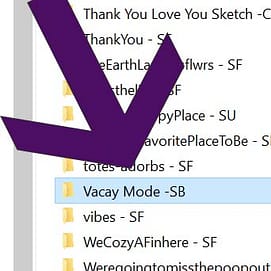 Once you have unzipped and renamed your file, you need somewhere to store it. I make 2 folders, one for Commercial Use and the other for Personal Use, this allows me to keep those separately, and not use a file I do not have permission for.
Under each of those I use broad categories, such as animals, mandala, sayings, backgrounds, monogram, mock-up, etc. In each of those, when needed I add another more detailed folder. An example is under Sayings, I have inspirational, sarcastic, food, family, vacation, etc. and I am able to easily search those for what I need.
If you only have 1-2 items in a category make it more broad or take it out of the smaller folder. You are just wasting time and energy. Once you have 4-5 minimum for a new category, then start it with a new folder.
By taking the time to get this system setup, all my files named properly and then put in to their folders and/or sub-folders, I no longer guess where the random teddy bear file is under which company.
My big NO: I will discourage filing solely by company and here is why, when you do that each and every time you want to look for a football you will have to go to each folder, for example: Craft Chameleon and look, then Sparkleberry Ink and look, Design store, look… It's incredibly inefficient use of your time when designing or creating.
I do not use any software to organize, tag or add descriptions to my files. I find this takes a ton of time and they want to "correct" you where it should go too often. I don't have time to be finding files, that is why I get organized.
There are many systems that can be created with digital files. Finding one that works for you and then diligently sticking with it is the key to making it work for you and staying organized. What is your system for digital filing?