This post contains affiliate links from Amazon. What that means is you don't pay anymore but we may get a small commission. Full Details can be found here.
OK I lied above. Not having a pantry is DEFINITELY a problem. At least it is for me. So here is my setup. I have a giant kitchen. I mean seriously the island itself is a little over 4 ft square. And then the entire U around it is far enough away from the island to have the dishwasher open to walk around it. So basically I have what for all intents and purposes is a great kitchen. HOWEVER and this is the fun of builders, there intent was to share a laundry room and pantry. Now several of my neighbors do this without complaint. I however did not want my food in a room that gets warm (its not giant like my kitchen) or where it gets incredibly dusty from lint. Nor was I, the clean freak, ok with dirty laundry mingling with food. Therefore our "pantry" was eliminated when we redid the laundry space. We have a pantry style cabinet that I promptly made in to a linen closet.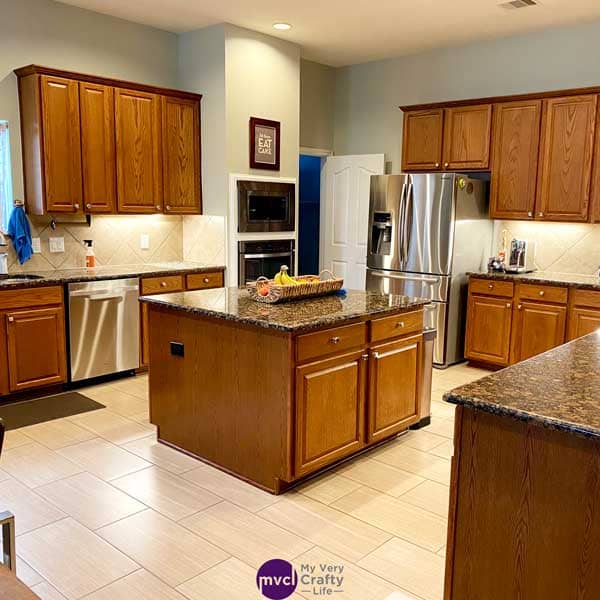 With all that said I now have to rely on basic upper and lower cabinets for food storage. I also dislike having many small appliances on our counters, as vast as they are, but that's an issue only solved by buying another home. I have been through SO many iterations of trying to make this cabinetry work for me its insane. This last redo, I really took the time to sit down and layout what may work.
As you can see it was contained however it was not remotely organized. When I talk about functional over fabulous last week. This was really neither of those things! But when I was thinking of changes i knew I wanted all my organizers to match to reduce the visual clutter.
Game Plan
You see I am 5'4″ (1.625m) and my husband is well much taller than me. But what I can reach is limited. Basically the bottom 2 shelves on upper cabinets. Now I also don't have the benefit of being able to stand on my tip toes after my ankle fusion, so that's out too.
So my game plan was to basically get whatever I could off the counters food wise (aka jars of protein and chip bags). Then maximize reachable storage for me. We honestly do not keep a lot of non-perishable food around. We prefer a lot of fresh fruit and veggies and frozen items like cauliflower pizza. That definitely helps when not having a pantry.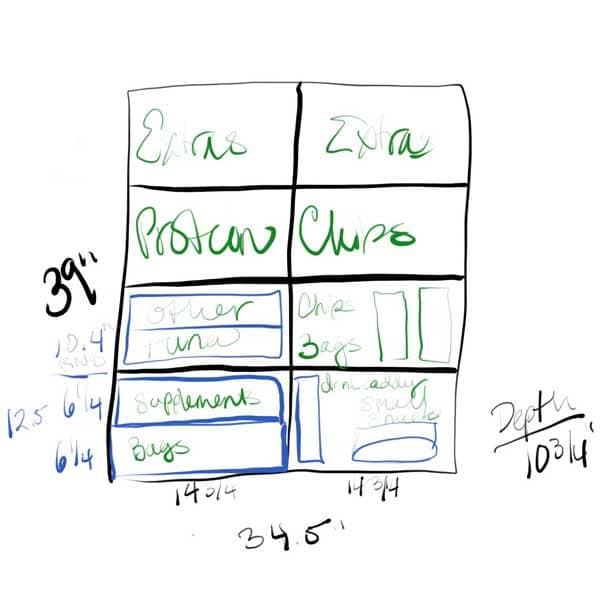 The final layout did not actual be exactly what I wrote out. Once I got everything situated I then tweaked it to work even better.
Final Layout
After a few tries of laying it out on paper I finally ordered what I would need. I have the "land of bins" in my attack but they were all generic and would not allow me to easily stack and see what I had. Plus I had reorganized this space with those bins 100 times with no success.
Products Used
1st Shelf
Youcopia Cabinet Lazy Susan with Removable Bins – these hold various snack size items. They will rotate as do our snacks.
OXO Pop Top Square Bins – these hold protein powders.
2nd Shelf
mDesign Stackable Clear Shelves – this let me maximize my reachable area while also consolidating where items lived. They are not as deep as the shelves so you could store items behind them. Or if you need them towards the front and don't want to store longer term items behind just put down a non slip shelf paper.
Top Shelves
Here we used clear storage bins to keep things together and easily accessible.
Lower Cabinets
Below the food cabinet I have 2 lower cabinets that we utilize for large items and items we don't access daily. Believe me its more annoying to get things out of these cabinets than then the uppers.
With these we installed Pull-out Cabinet Drawers. I don't love them but they do make the lower cabinets more useful. As you can see here we are storing longer term items on the bottom and then more necessary items to grab and go on the top.
Conclusion
For those of us unlucky enough to not have a pantry this is definitely my best setup to date. My husband even found things easily and put them away! That right there is a win in my book. But I really don't recommend ever buying a home without a workable and nice pantry setup. I know it's at the top of my wish list for our next home. Do you have something like my pantry that you would just love to be different in your home? How do you work around it?