The weekly free cutting file is a quality file that you can use for personal or commercial use. I hope you enjoy them!
Please note the newsletter is now coming from a NEW email. It will be sent from info@myverycraftylife.com. Please add that to your safe sender list!
Please read the included licensing before use. With the new Go Expressions coming out – this will fall under drop ship or enterprise use and will NOT be permitted to be used that way.
Where to Find My Designs
You can find MVCL designs on Etsy at: https://www.etsy.com/shop/myverycraftylife
And now on Designbundles at:
https://designbundles.net/myverycraftylife
This Weekly Free Cutting File is brought to you by a fun quote that we came up with together on a live :-)! I love when that happens. I hope you enjoy it
New BOOK is out!
The book and it's resources are live! Wow this is a dream come true. E-book is found HERE. This is a great way to learn about sublimation and troubleshoot so many different parts of doing sublimation. I hope you find it to be a wonderful resources!
"Team Maker" Weekly Free Cutting File
While I am in the middle of a sudden move, I will just be doing a newsletter every 2 weeks. Therefore you get 2 free files at the SAME time! I hope you love them! This first is inspired by what I do these days – paint walls.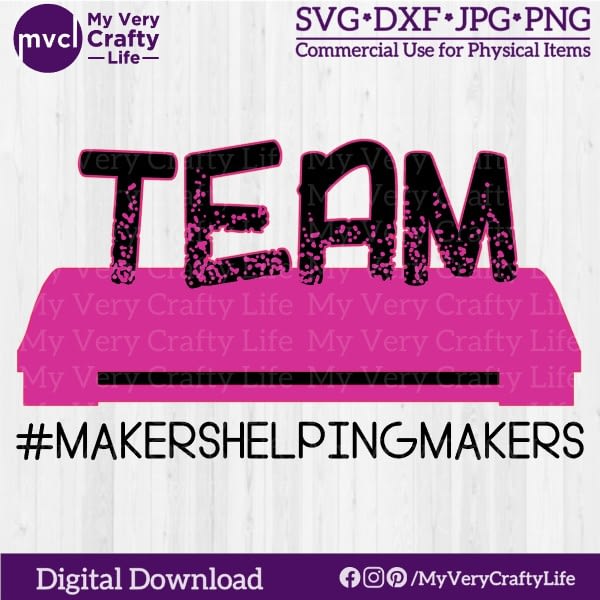 I hope you love this weekly file! I do my best to make quality and fun files for you to enjoy. Also, I absolutely LOVE seeing what you guy all make – join me in my Facebook Group "Crafty Friends" and show off what your creations!
If you ever have a suggestion or request for a file – be sure to reach out on here via comments or by email to myverycraftylife@gmail.com.