This post contains affiliate links. What that means is you don't pay anymore but we may get a small commission. Full Details can be found here.
The Christmas Holiday is upon us! And what is better than going out to find gifts for those we care about, well making them of course! Now, we don't want our adult projects to come across like a little kid proud of their crayon drawings. We aren't cute enough to get away with that. Producing beautiful items for our friends and family to show off is something you can definitely do! This tutorial will help you do just that!
Needed Tools
First you need to gather the proper tools! Luckily only 2 are required for this project. You will need 2 pairs of pliers: ROUND NOSE PLIERS and FLAT NOSE PLIERS. These are 2 great entry level ones to start with. The key factors are these are both smooth, as to not mar the metal you are working with. If the pliers have "teeth" your metal will be marked with those.
Beads & Findings Needed
You will need the proper beads! For these we will be using Swarovski crystals: (2) 6mm cube's in the color of your choice for the base, I used Siam colored. (2) each of Margarita style Swarovski Crystals in 12mm, 10mm, 8mm, 6mm. I use fern colored for the green and Crystal AB for the crystal/white pair. Finally the tree topper: (2) 4mm Bicones in the color of your choice. You will also need a set of ear wires & at least (2) 2″ long headpins. If you choose to use longer than 2″ headpins I recommend also purchase a jewelry wire cutter.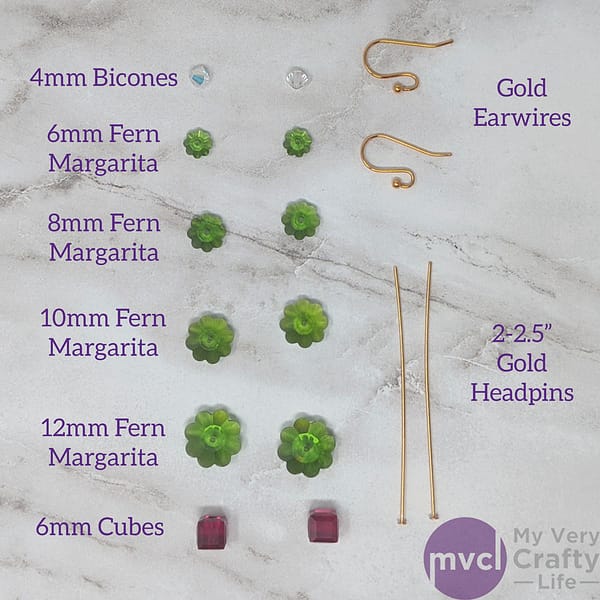 Assembly
To begin take the headpin and add in the beads in this order. Cube, 12mm Margarita, 10mm Margarita, 8mm Margarita, 6mm Margarita & 4mm Bicone.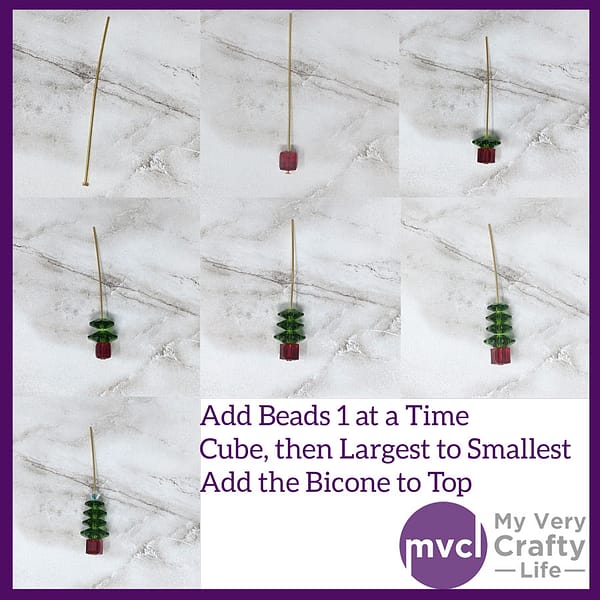 Creating the Loop
Place the chain nose pliers directly above the top bead. Bend the headpin 90 degrees.
Place the round nose pliers over the now bent part of the headpin, approximately 1/4″ on to your pliers. You want a large enough loop to hook on the ear wires. But not so large it overtakes the design. You can mark this on your pliers with a sharpie if you want your pair to match exactly.
Wrap the wire around the top of the pliers. Forming a loop by the headpin. You will need to move your pliers once, 90 degrees, to finish the loop.
Close the Loop
Take your Chain Nose Pliers and grab the end of your wire. Be sure to keep your loop firming on the round nose pliers so you do not lose the round shape. Begin to wind the wire around the main post of the headpin. You will wrap it 2-3 times. If the end of the wire is too difficult to grab at the end, simply use your pliers as a clamp instead.
You have now completed your decorations.
Final Step – Add Earwires
Add your earring wires. Use your wires to open the loop, add the decoration. Then close the loop.
Repeat for the second earrings. And you have your new set of Christmas Tree Earrings!
If you would like a Christmas Tree Earring Kit head over to my Facebook page and send me a PM for a link to the form. They will be available from mid November until early December of 2019. Don't forget to #MyVeryCraftyLife #CraftYourBestLife so I can show off your beautiful creations!