This bracelet is my new and unique creation. I was searching Pinterest for inspiration for a showcase piece for the All Things Silhouette Conference I attended last weekend. I saw a lot of metal washer jewelry where they were using alcohol ink to color metals. This inspired me to do my own version and here is how I did it. I do this entire project on my stove top with my range hood above for safety.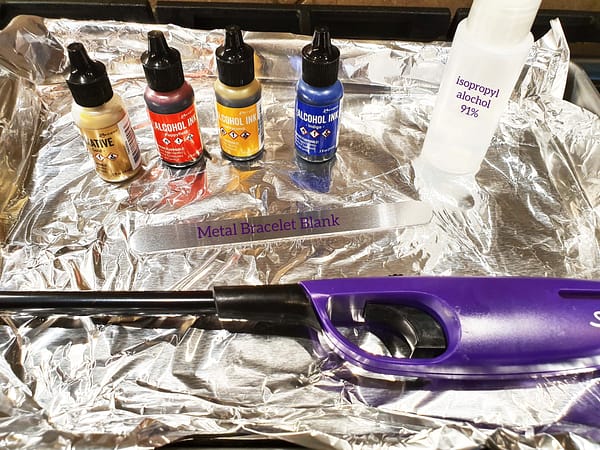 Step 1. Remove film (if necessary) from the bracelet. Wipe down with Alcohol to remove any residue. I also found it helpful to wash the bracelet with a paste of water and baking soda.
Step 2. Lightly Mist the bracelet with alcohol. (Steps go quickly from here as alcohol evaporates rapidly so be sure to be prepared when doing the next few steps).
Step 3. Quickly add drops of alcohol to the bracelet until mostly covered. You can swirl around, be sure all of the top of the bracelet is covered in ink. A few small hints are dark colors will take over, if you see the photo below I used very little blue ink but it overtook the yellow and red. Whatever the dominate color you want is, do not add anything darker.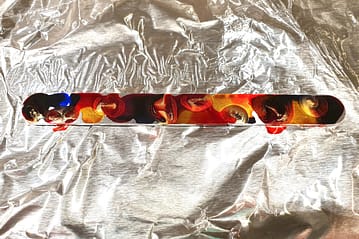 Step 4. Optional. Lightly mist (one spray) the inks. this gives your colors a thinner appearance, for light colors like yellow you will lose a lot of pigmentation but it allows your colors to burn better and swirl more.
Step 5. Quickly light the inks and bracelet on fire. SAFETY PRECAUTION: STEP BACK FROM THE BRACELET. DO NOT PUT YOUR FACE, HANDS OR ANY PART OF YOU NEAR THE FLAMES. I AM NOT RESPONSIBLE FOR YOUR SAFETY, YOU ARE! TAKE PRECAUTIONS. You will get different results of flame based on how much alcohol is left on the bracelet, it could be very little all the way to watching it burn for 5-10 seconds.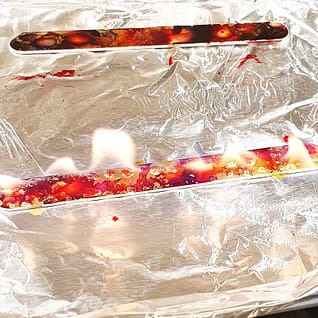 Step 6. Once the bracelet has burned you will see the final inked results. If you love them, set it aside for at least an hour to finish drying and set. However, if you aren't really happy with, take an alcohol soaked paper towel and remove the ink. If it doesn't come off nicely, use the paste of water and baking soda to finish removing the inks, then you can start over.
Step 7. Creating the etching file. I worked with the Silhouette Curio for etching (ok let's be real, I've now etched about 4 things in my entire life). Since this is not my expertise, here is a really quick version of what I did. See Silhouette Secrets+ blog for more help than I can every give you. In Silhouette Studio software I wrote out the word "creative", made it very large (about 20″), welded the word together, duplicated, using deboss window, with a cross hatch fill with spacing slider all the way to the left and angle 0 for the first one, then select the duplicate and do the same but angle at 40. Release emboss for both. Center, group, size and place on your mat where you want it to engrave.
Step 8. Tape down or double stick tape your blank to the mat where you want it match your file. I've been told the pixscan mat can be very helpful on this. I used Silhouette's Etching tip with speed of 4, force of 18 and 1 pass. I need to play around more with the different tips and see what works best for the cleanest possible etch. Load your platform (total should be 6mm, so I used 2 of the 2 mats and the mat with the blue cover). Load your platform and hit send. This bracelet took approximately 15-20 min to etch.
Step 9. Seal the bracelet. I haven't done a lot with this so I don't have any perfect recommendations. But the ink will come off if you don't seal it. I am trying Modge Podge and spray acrylic to see which one holds up better. I'll report back when I have had a chance to do more testing. You will notice the finished bracelet has some scratches and that is because it wasn't sealed yet.
Step 10. Allow to dry for 1-2 days and then ENJOY :-)!!!
I can't wait to play around with more of these. I haven't done a ton of working with etching or alcohol inks and I am excited to see the potential of what can be done! I mentioned I made this for a showcase and I had several of the instructors compliment me or ask me how I did it, I was blown away that I had done something that sparked their interest and they wanted to hear about it! It made me feel like a million bucks and it was my huge win from the conference! What innovate and cool ideas are you guys doing right now?