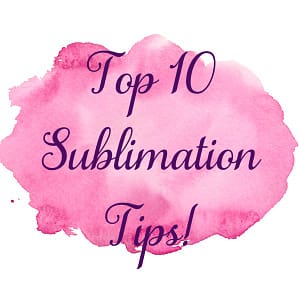 This post contains affiliate links from Amazon, they are in all capital letters. What that means is you don't pay anymore but we may get a small commission. Full Details can be found here.
Are you dipping into the world of sublimation? All the information can be completely overwhelming. I compiled my TOP tips for you to get going. Hopefully this can also be a good reminder for all of us.
Tip No. 1
My first tip is to practice. This sounds dumb right, it's print and press. For instance, there are things like colors you need to dial in and learn what they will look like when pressed.
I recommend to everyone to go to your local fabric store. And then purchase 1 yard of a white 100% polyester to practice, learn and test on. If I had been told this, it would have saved me so much heartache.
Tip No. 2
Always, always, always use a clean blow out sheet. This is a blank scratch paper or not coated parchment paper. This protects your press from ink blow out or transfer. If you get ink on your press it will then transfer to ALL the other projects you do.
I personally get a ream of NOT COATED BUTCHER PAPER. It lasts for a very long time! I have it on a STAND that helps me easily tear it.
You need enough paper to cover your entire transfer. This cost is a few cents a project. However if you choose not to use a clean sheet each time it can and will ruin a $10 substrate. To me, the risk is not worth the savings.
Tip No. 3
Do NOT use Teflon sheets. If you have come from the vinyl world, then a Teflon sheet is king with Heat Transfer Vinyl. However with sublimation it creates moisture. And you definitely do not want moisture. This can effect your ink transfer by blowing out ink, leaving specs in your ink, basically it's bad and don't do it. This is why you want to follow Tip No. 2! Non-coated butcher or parchment is your Teflon.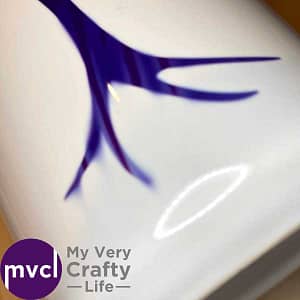 Tip No. 4
Even and consistent heat is what will make a great product. Sublimation does not use pressure like vinyl does. Often pressure can be your nemesis when sublimating.
High pressure can cause blow out in your ink on hard substrates. While fabric will get permanent boxes in them from your press. Tips 5 & 6 will help you improve your fabric pressing.
Be sure to refer to the manufacturer of your substrate for time, temperature and pressure of your substrates. You definitely don't have to press these to death like vinyl.
Tip No. 5
Foam is your friend. Vapor Foam Kit is a life saver and if you use Tip No. 2, your kit will last a long time. You want your foam to go under the entire section of the ink on your transfer. However you also want it smaller than your actual transfer page. Combining these together with just the right lighter pressure, will eliminate those dreaded pressing boxes.
Tip No. 6
Deckle the edges of your pages for fabric pressing. This means tear your paper around the edges. Not having the harsh cut edge on your transfer will help mitigate those dreaded pressing boxes. Combine this with Tip No. 5 for ultimate success!
Tip No. 7
Reuse and recycle. You will mess up, eventually. But get this, you can reuse your substrate! Here is a good example: You are making a mug and you get a blow out on the ink because your pressure is too high. Take that mug and reuse it to dial in your pressure and colors on mugs. Then use it for pens or paint brushes in your store.
I occasionally print Error pages. All that is, is a sheet of paper with sublimation ink that says Error in all black. I then press it on to my substrate and recycle or donate. This can help when are doing something you want details shared with anyone like a customers address.
Tip No. 8
Sublimation ONLY works on specially coated items and polyester. Yes, occasionally you can find items it works with at normal stores. However I always find the results to be sub-par.
Obviously, with fabric that's not the case! 100% polyester in a light color will always give you the best results. But you can go as low as 60% poly blend material. Shirts or fabric below 100% will give you a slightly faded or vintage look once pressed and washed.
Remember Sublimation printers do NOT have white ink. That means you cannot press directly on to black or dark colors.
Tip No. 9
Utilize a TABLETOP CONVECTION OVEN, just NOT the one you use for food. Sublimation CANNOT go in your normal oven, EVER. I feel like I need to scream that sometimes! Sublimation off-gases and that gas could and would get into your food. Therefore get a separate, designated oven.
You can do so many things in an oven. Conde Systems makes an amazing sublishrink. If you are new to Conde ask for Robbie M., he is my rep and has been amazing to work with. Sublishrink allows you to do full bleed mugs, stemless wine tumblers and SO much more. I absolutely love it.
Using the oven will also let you put off buying a mug press, since you can do them in the oven!
Tip No. 10
Buy quality products. This seems like it should be a "No duh". As a result of my choices, here is what I have learned. A quality press, printer & substrates matter. I have now had to replace all of them!
Initially I went with budget items and when I switched to sublimation, I had to replace my regular press. In other words, my budget items just didn't hold up or give me the results I needed to make this a business.
I am not saying you need to spend thousands. But purchase the nicest product in both presses and substrates you can reasonably afford. Quality in the coating of substrates is important in the outcome of your product. The printer quality that you choose will help with color and vibrancy. Quality in your heating (press, mug press and oven) will help you get the best, most consistent colors.
What is your top Crafting Tips?!? Because sharing is caring!

I can't wait to see what everyone is creating! Find us on Facebook or Instagram and tag us so we can share your amazing creations!