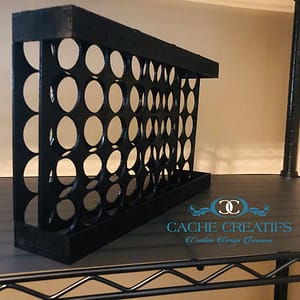 Today we have an amazing guest post! Francis has designed an organizer for the 2 oz. Acrylic Paint Bottles! Her and I joke that our spaces drive each other insane. Francis's space is all open storage and mine is mostly closed storage. To read about how that effects your choices read that post HERE. I love being able to collaborate with my crafty friends, thank you for guest posting! Now, take it away Francis.
Acrylic Paint Organizer
If any of you have what seems like a million bottles of 2 oz acrylic paint. Then this setup is for you. While I was organizing my craft room, I could not find an easy way in which to see the colors of paint I have at a single glance. So I decided to engineer an organizer and cut it in the Glowforge laser.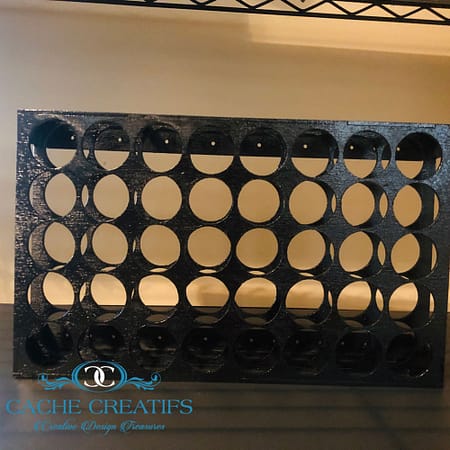 Design
To design this, I started by using the maximum size I could cut on my machine. That is around 18" long for 11" tall. Then I measure the bottom of the bottle and start to arrange circles inside that rectangle. It turns out, I was able to fit 40 of those circles. I was excited that this organizer will fit 40 bottles!
Assembly
You will need to cut two bottoms, two sides, one front section, one mid, and one back section to keep it in place.
To put together, even though it has dove tails, because it is going to support weight, it is recommended to add glue. Start assembling: grab your base and the top. Insert your middle layer (one with the 40 holes in it) once it is in add glue. Then you will add the front part. Turn it around and add the back parts (you have two, one on top, one on bottom). Then add the sides. Let the glue dry. I chose to spray paint it. That way it will match the rest of what I have in my craft room.