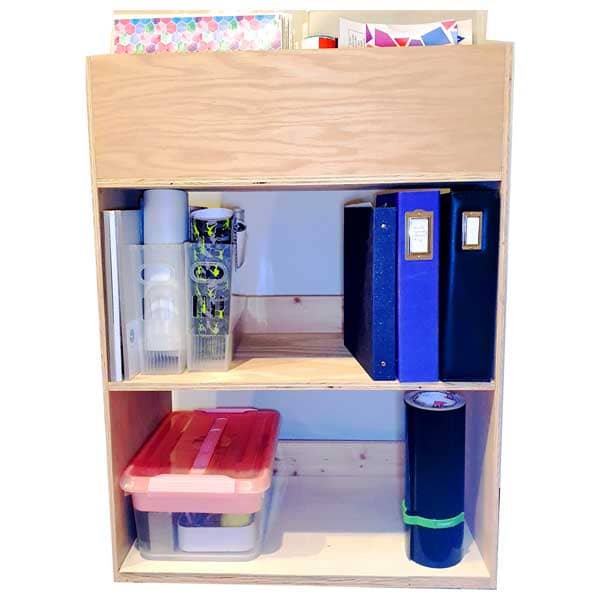 This tutorial on the DIY vinyl storage cart is meant to give you an overview of how to create the cart. Please be careful using power tools. If you do not know how to use table saws, drills or nail guns please consult with a professional or have someone who can do this safely. And wear your PPE at all times.
This post contains affiliate links from Amazon. What that means is you don't pay anymore but we may get a small commission. Full Details can be found here.
Supplies Needed:
Plywood – I used cabinet grade 1/2″ plywood sheets, combined with some others left over.
1/8″ Particle Board
Stain, Paint or whatever finish you have decided on
Dimensions
Basic How To
These instructions are very basic instructions. This is NOT a beginner project with woodworking. A better one to start with is this console table.
First you want to cut the side panels and shelves. The sides however will need some channels for the top compartments before we can begin assembly. Using your table saw, make 1/8″ deep grooves in 3 places where you will divide the top sections. These will be approximately 8″ down onto each outside board. (You can do the divider piece at this point as well, that is described below).
DIY Vinyl Storage Cart Assembly
Then assembly begins. Measure and mark a line on each of the side panels where you want to screw the shelves into. We opted to screw in the shelves from the outside. You can also use "L" brackets so the screws don't show. Then with either the help of an L Clamp or another person. Start assembly by screwing one side to all the 3 shelves. Then you will simply repeat with the other side. You will now have the main body of the cart.
From here we want to add the front and the back of the top compartment. You need to create a channel to put the divider board, you want to aim for the middle of the front and back panel. Be sure they match. We created this groove or channel by running several passes on the table saw to create a 1/2″ wide groove about 1/8″ deep. You need to do this for the front and back panels that help you make the top compartments. Then you glue them in place and pin with finish nails in a glue gun.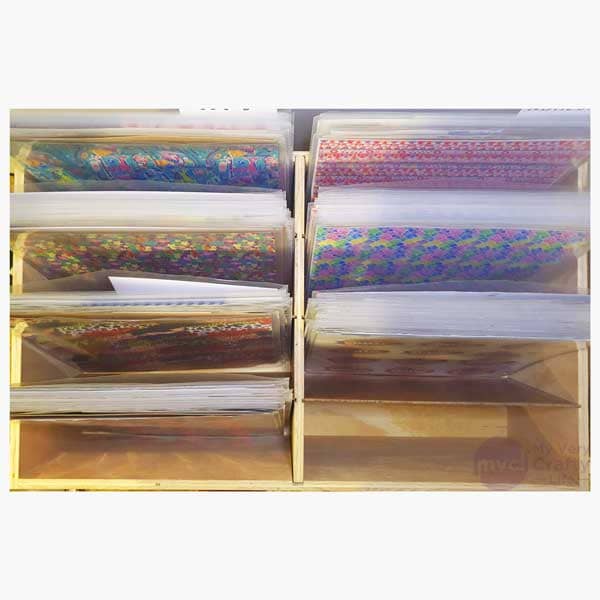 Now you have the main body, which was basically assembling a box with some shelves. The tougher part comes in creative the dividers for the top. Your center panel you will create 1/8″ deep grooves on both sides, in 3 or 4 places. You can choose how many compartments you want to make. Then you will slide this board into the grooves you made above. If its too tight a fight sand down the end some and try again. You may also need to use a soft mallet and another board to get it down.
Last you want to add the dividers & casters. This is simply measuring what your final space is and cutting down your pressed particle board. This can be removed if you ever want a larger compartment. They are necessary in the DIY vinyl cart because otherwise your sheets will simply all slide down. I find them useful to keeping my categories separately too. Then screw on the wheels from below.
Finally you fill up your cart using my creative solution for vinyl storage. Again I know this is a very simplified tutorial. If you need more detailed help, you can find me on Facebook or Instagram. I am always up for chatting and helping where I can.