This post contains affiliate links. What that means is you don't pay anymore, but we may get a small commission. Full Details can be found here.
Did you know you can get templates for many of the etch-able blanks from Craft Chameleon? These templates make etching so much easier! Each one comes with a plastic sheet with the acrylic shapes cut out; along with the digital file to match. You also get the the actual cut outs too. Then you can use those when just doing 1 or 2, by covering the part you aren't using.
Templates are a Time & Product Saver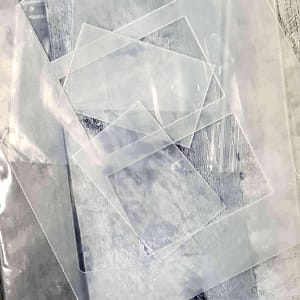 Having these templates is a life saver. You save money and time, by being able to etch on blanks without the guess work of placement on your curio. But you need to keep ALL the parts together for it to work.
Now if you've read anything else on my blog, you will notice that I love using notebooks/binders (my favorite use is here). They vary in shape, size and usage. I find these binders take up very little space, are easily stored and allow for easy access to what's in them. This can be important if you do not have a designated office or craft area. Plus pretty ones like THIS ONE look so nice on a shelf.
Binders are one of the most useful, economical & underutilized storage options.
When we chatted about the best ways to store the blanks you get from places like Craft Chameleon, one of my 3 recommendations is a 3-ring binder like THESE, with inserts like THESE . That way you can store all your little items like dog tags or jewelry pieces.
In the same binder as your bits and pieces, I recommend adding a section of full size sheet protectors like THESE. That way you can add each template and all of its pieces to one sheet protector page. I don't know about you but I have a few sheet protectors already around, therefore making this organizing free. If you bought everything I just recommended you would spend less than $25. It would allow you to have your templates and small blanks organized. Not to mention still have several extra protective pages and binders left over for other projects.
2 Options for Organizing the Template Binder
There are 2 ways you can file them in your binder. You can put the templates directly after the page the item is stored in. For example dog tags are in divided sheet 1, you would do the dog tag template for page 2. Option 2 you can add a full section, in the back of your binder, specifically for templates. I recommend keeping THESE tabs on hand for paper file organizing and to clearly divide and label the sections of binders. By keeping blanks and templates together, in the same space, it will allow for easy work flow of your projects.
Continuity in Labeling is Key
A key note to make for ALL of your organization is this: Be sure to label things identically. That means between your blank, physical template and digital template file you want to keep the labeling identical.
For our dog tag example, all 3 of the items: the digital template file, the blank, and template sheet will be named: Craft Chameleon Dog Tag. You may choose to add something like "template" to the end depending on how you arrange your digital files.
My recommendation for keeping your digital files organized can be found in THIS post. Remember to always put the company so you know where it came from. This allows you to easily re-order and/or reach out to them if you are have an issue. Continuity will be key in easily locating and then using the items in tandem to create beautiful products.
Many of our projects, as crafters, have lots of components that we integrate into projects. By keeping things organized, I am finding that I can be more creative and crafty. What is something you use to keep track of all your crafting components?