This post contains Amazon affiliate links. What that means is you don't pay anymore, but we may get a small commission. Full Details can be found here.
How the heck to store your vinyl!!! I see this question come up over and over again. I have come up with several ways to store all your different types of vinyl, keep them organized, and easy to use!
Key Notes
~Categorize – keep various types of vinyl separately, i.e. don't put Heat Transfer and Adhesive together.
~Store by Color not by Brand – this lets you know what you have without digging through to find it! Do what makes sense, don't overthink: rolls in bins or drawers, sheets in books.
~LABEL!!! Always label each and every item or location, don't assume you will remember!! I use THESE 2″ x 4″ address labels
Scrapbooks
I use 12″ x 12″ scrapbooks with sturdy 3-ring binding, like THESE. Then I get the 12″ x 12″ PAGE PROTECTORS in bulk. Each different type gets their own book. Here are the categories I have: Specialty & Patterned Heat Transfer Vinyl, Specialty Adhesive Vinyl, Patterned Adhesive Vinyl and Oracal 651. Click here for more details on Scrapbooks for Vinyl Organization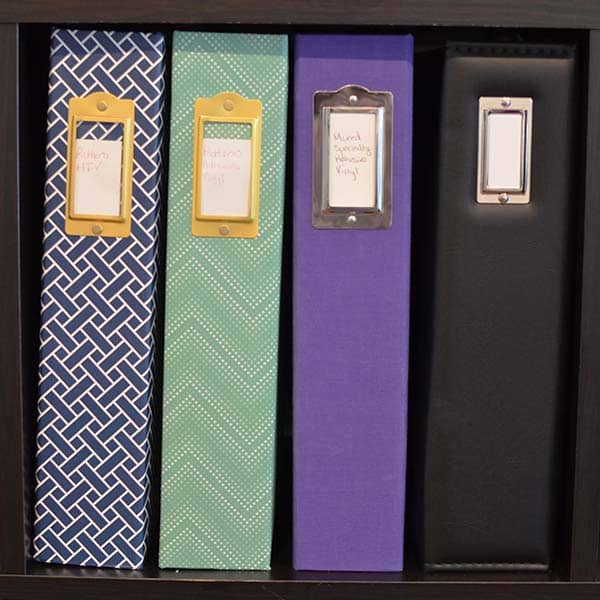 Art Portfolios
I use THESE art portfolios to store large sheets. I primarily use it for HTV (Heat Transfer Vinyl). They need to be at least 12″ wide. You will sort by Color then Brand. Stick to whatever order you start with. Ex. White Siser, White Chemica, White Stahl's, Black Siser, Black Chemica, Black Stahls. Also every color or two leave a blank sheet, front and back. This will allow you to adjust when you get more! Click here to see the details of how I use Art Portfolios in my storage solution.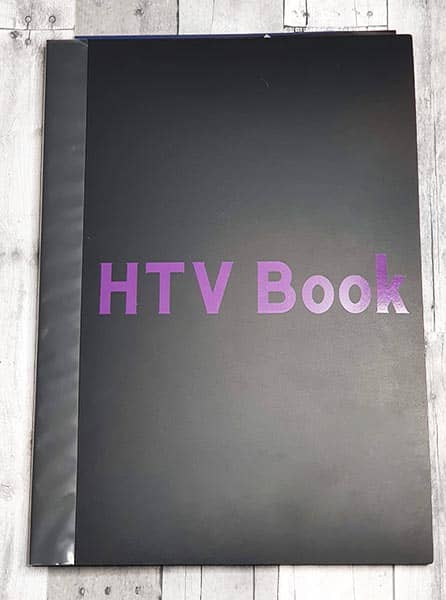 Bins
Perfect for rolls you put on shelves. Don't roll too tight or it will buckle. I use this for all my solid adhesive rolls. THESE bins would work beautifully for this project. I actually like them more than mine! Click here to learn more details on sorting, organizing and labels with bins in shelves.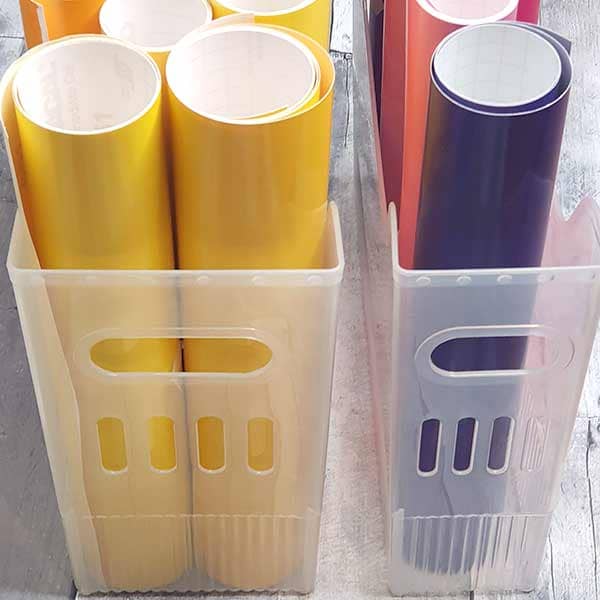 Drawers
For the extras the extras, specifically when I bulk order a few colors, I utilize drawers. I use the wide ALEX DRAWERS from Ikea to store many things and relegate 2 drawers for this.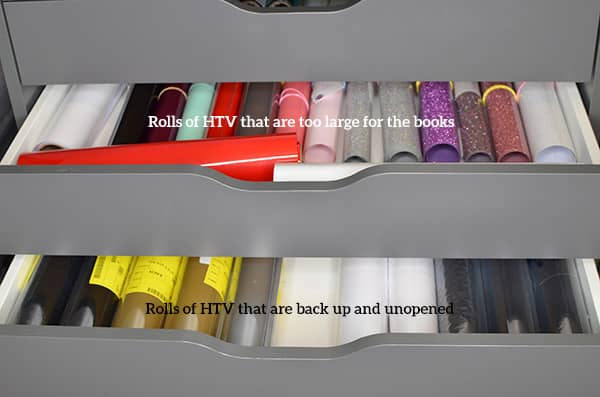 I hope this helps you sort out all your vinyl and keep it straight, easy to find and use! Because who has the time or desire to dig through bins or baskets to find what they need! Tell me what is your best storage technique for vinyl?