This post contains affiliate links from Amazon. What that means is you don't pay anymore but we may get a small commission. Full Details can be found here.
POT LID HOLDERS are inexpensive and versatile organizers! They cost only a few dollars but can be invaluable to what they help get sorted out and stay that way! I will show you 7 ways to use them, that have nothing to do with pot lids!
Paper Books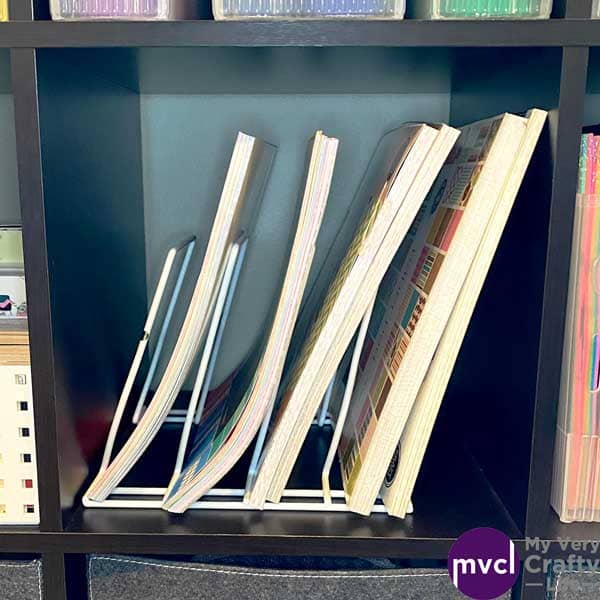 This first idea is in your craft room, but could definitely be used for any large unruly books that don't sit nicely in a bookcase. I use these to nicely sort in order keep my unruly paper & card stock books easy to grab. And not falling over on each other! This would be easy to replicate for cookbooks & coloring books too! The dividers on the POT LID HOLDER make it easy to access and put away. This is best for books that are a bit flimsy to stand on their own.
Files on Desks
Does anyone else have issues with all the files on their desks? And while there are file folder holders out there, they tend to be expensive and at least for me difficult to use. I like to mix in notebooks, files and my planner. The ones meant for the office just don't allow that. So I use an inexpensive POT LID HOLDER when I need it!
Blanks & Substrates
In our craft storage we all have a lot of blanks and/or substrates! Often we have ones that are larger like canvases or plaques. Line them all up on your shelf easily with a pot lid organizer!
Craft Fair Setups
I utilized a pot lid holder for showing off my larger decorated makeup bags! I also used it for a signs when trying to see if those sold at another show!
Serving Platters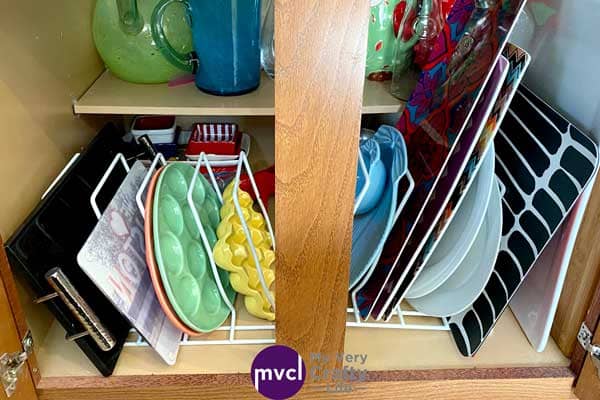 In the kitchen I have one of these for pot lids. But my main use of them is actually for my serving platters. I keep 2 of them in the cabinet and place our serving trays on them. This allows me to get out just what I need and not stack and stacks of platters to sort through!
Clutch Purses & Wallets
We have moved from the craft room to the kitchen to the closet. In the closet I use them to keep my unused wallet and clutch purses easily accessible and organized!
Flip Flops & Ballet Flats
Staying in the closet you can easily use POT LID ORGANIZER for your flip flops and ballet flat shoes! This helps keep your shoes together and easy to find and reach for. This could definitely help save an unruly mud room! Just be sure the spacers of the ones you get for this are far enough apart to hold what you need.
Below is a link to a video from Facebook that I did showing you the details of how to use 5 of these tips in real life! Thanks for watching!
Easy, Cheap & Effective!
POT LID HOLDERS are diverse and easy to use all around your home for organizing! Be sure to check out our use of recycling bins to have a better laundry sorting system!