This post contains affiliate links from Amazon & Arkon. What that means is you don't pay anymore but we may get a small commission. Full Details can be found here.
I wanted to share my office & crafting space with you. Hopefully this will give you some inspiration! And let's be honest, it's just fun to get a sneak peak into someone else's home.
Right Side
I'll walk you through from one side to the other. My space is open to the rest of my home. So I separated it with 2 display cabinets in white and backed it with REMOVABLE WALLPAPER. On the right side, I have 3 Alex Cabinets from IKEA in gray. They hold my smaller substrates. On top is my Sawgrass SG800 with bypass tray, embroidery machine, curio & Arkon Mount (20% off use code CRAFTYLIFE (affiliate)). Order board is mounting on the wall. In front of all of this is where I leave my light for my live. Check out my LIVE SETUP.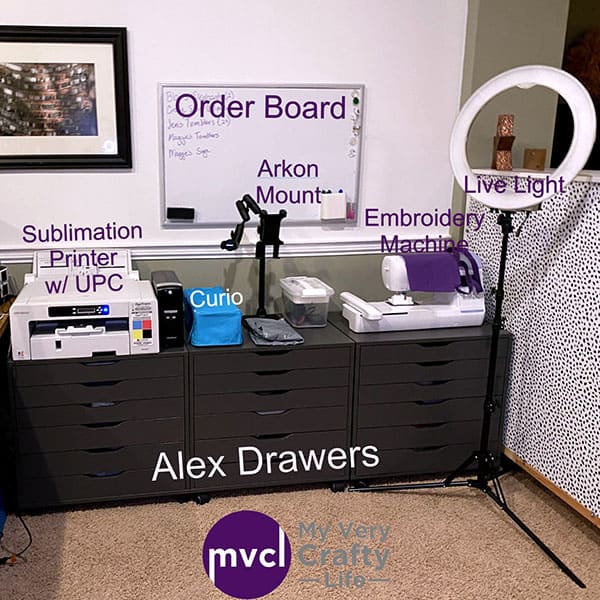 Quick Tip
Tip for drawer storage is to utilize smaller bins to keep everything inside straightened and sorted out.
Desk Area
Next to that is my desk. Turning it to come out into the room and keeping the smaller length of the desk against the wall for things like cords. Allowing me to best utilize my wall space. As well as look out instead of at a wall. My desk is designed by myself and made by my husband & I. There is a rolling file cabinet under with monitor on backwards monitor stand. My stand being backwards allows me to store and hide my cords.
On the wall I have hanging file folders. I use magnetic ones from Container Store by Poppin. I hung them up with COMMAND STRIPS.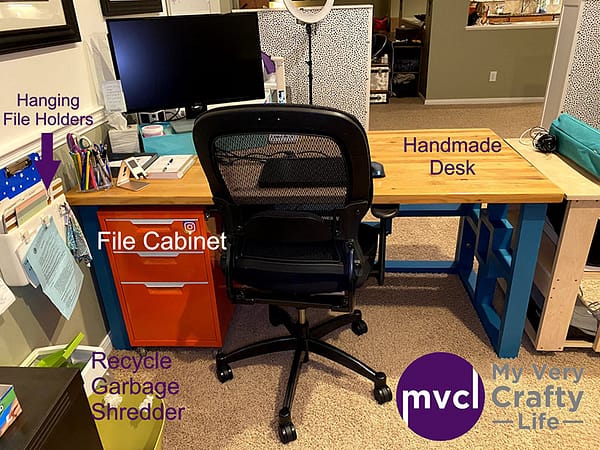 Cutting Machine Cart
My husband and I worked together to come up with a cutting machine cart. It is not perfect but the wheels mean I can take it everywhere I need it. Like on lives, when my mobility is compromised, etc.
Back Right Corner
Behind the desk is my garbage, recycling and SHREDDER. Then I have an office credenza holding my vinyl tools, LASER PRINTER and storage place for my Vinyl Books. Check out THIS post to see my tips & tricks for storing my HTV.
Then above the cabinet is a floating shelf from IKEA with Marker Storage that I went through HERE. In the cabinet is office supplies on the sides and cup blanks storage in the middle.
Not Pictured
Not Pictured: On my back wall is a large red cabinet with glass. It is from Crate & Barrel several years ago. It holds blanks, chemicals and other small items. Along with working projects.
Back Left Corner
In the back left corner is 2 more Alex drawers from Ikea, with a floating shelf above. My mug press is a GK3. The BUTCHER PAPER DISPENSER for sublimation projects.
Heat Press & Cart
My heat press is massive. As a result takes up a lot of space! It is a GK20S I purchased from Conde (Robbie is my rep – give him a shout!). Then next to my press is my larger bookcase. In front of that I keep my cart for lives. It also holds my SUBLIMATION OVEN.
Bookcase
My bookcase holds A LOT! It is an IKEA KALLAX in Black/Brown. Here it is from the bottom up. First is bins that holds things like my camera bag, parts for presses, and a few unruly substrates. Then on the next level is all my Paper Storage. On top of that is my row of vinyl rolls. If you want to see how I store my vinyl check out this post. Then we have the top row, from left to right: blade storage, adhesive vinyl books, Printed Vinyl Book, Scrap boxes, Sublimation pressing tools. Whew. Lastly on top I keep fun artwork by myself or friends!
Now we get to the final area. This is a smaller IKEA KALLAX bookcase. It holds miscellaneous storage. Some bins are even currently empty! But I know they will fill up quickly. On top of the bookcase I keep some of the projects I am working on. Also things that need attention or fixing.
Finally I have my amazing Purple Tool Storage. That holds my heat press items like teflon and pressing pillows. On top is my HPN 13″ x 9″ craft press.
Closet Storage – Not Pictured
Lastly I use a closet of our front room that we utilize as a gym. This holds my shirt blanks, shipping supplies and finally my made items for sale. This has allowed my office to stay free of items I don't need all the time. Having my shirts in that room isn't the best. However it isn't pretty to see in my office either. Therefore it's a trade off. I am fully team Closed Storage, which I talk about over here on this post.
I truly hope you enjoyed getting a peak into my current craft and organizing world. My space is ever evolving. As a result, I am continually looking to improve work flow, storage and function. Tell me what your favorite part of your space is?