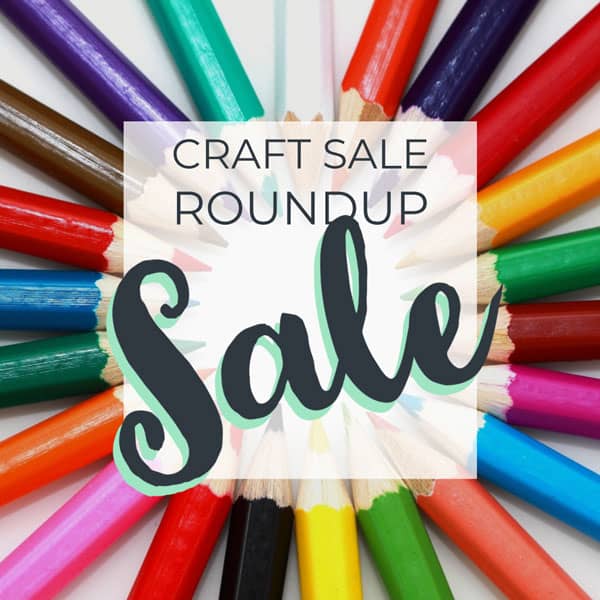 This post contains affiliate links. What that means is you don't pay anymore but we may get a small commission. Links will be in all caps and/or blue text. Full details can be found here.
Tis the Season for a sales! I will be adding and updating this throughout the rest of the week. Ending on Nov 30. Check out all the sales, times and highlights. If I missed one please share in the comments (no links please). And I'll add it to our growing list! What crafty items are you in search of this holiday season?
Don't forget to join us on Facebook – Starting Thursday there will be a designated thread where we can share all the best finds and lightning deals! Happy Shopping!
Everything in my shop is 20% if you spend at least $29.99! Look for tons of new items & files added daily!
AC Moore
They are opening on Thursday at 6pm. Most notable sale is Cricut tools of Buy 3 Get 2 free. And artist canvases buy 1 get 3 free.
Amazon
Amazon always lists their deals under "today's deals". Keep up with their Craft offerings: AMAZON CRAFT SUPPLIES. As Always the best deals are the lightning deals and you have to be quick on your feet. Be sure to get a reminder in your app for the items you don't want to miss out on! I will be posting as many of the craft & organizing ones as I can in a post on Facebook starting Thursday!
CRAFTING TACKLBOX for $25.92 in hot pink! I use this tackle box and a UTILITY CART for my sewing storage, read more about it here. CRICUT EXPLORE AIR 2 for $199. Comes in lots of colors!
Arkon Mounts
Arkon Mounts is amazing. These are great gifts for the entrepeneur in your life. These are the stands I use for my live streaming and video recording. Use code "CRAFTYLIFE" for 20% off your order. I use THIS setup, but all their mounts are amazing. Check out my posts live stream setup or tips for doing lives for full details on everything I do.
Best Buy
Retail opens Thursday at 5pm. Expect best doorbusters to drop late Wednesday or early Thursday online. They go fast online but beats standing in line! Avoid HP computers but they have some great deals on others. I will be eyeing the deal on the podcast microphone & stabilizing selfie stick. Also check out their iPad sale! The design apps are amazing to work with! And lots of insane printer deals. Last they have some wonderful entry level hobby photography equipment packages for great deals. These are more tools of the trade than actual crafts, but just as necessary!
Conde
Conde has some great sales going on this year! Not only do they have their infamous black box full of free goodies if you order at least $200 worth of product in 1 order. But they answered the plea for some free shipping. Granted you need to spend $500 but free shipping for a size that big could be $50-60 easily. Time to stock up on the heavy items if you are anywhere close to that number! If you haven't used them before let them know I sent you and ask for Robbie McNeese. He is a great rep to have and I enjoy working with him.
Craft Chameleon
I know they will be having sales! Head over each day and check out what they have going on.
Craft Warehouse
Stores opening Friday at 6am. Sales seem to be random here. I don't use this store so I am not sure their normal policy. They have several coupon offerings. I suggest if you are going to be sure to decide what you want and time it best with the sale you are looking for.
Heat Press Nation
HPN is offering some really good sales. They are unlocking new sales each day so they want you to keep checking back. Go here if you need a new mid size and mid price range heat press.
Home Depot
Stores open Friday at 6am. Best purchase we ever made is the $25 work platform, it's life changing for home renovations and DIY, heck even cleaning! Lots and lots of great organization sales this year. I will be after the Husky mobile tool cart, for a home for both my heat presses. They always have deals on shop-vac's if you need one this year they are $40. They sell out quickly! Home depot also has awesome tool sales with to many to mention. HDX Tough totes (black box, yellow lid) are on sale for $6.98, they are top notch and worth getting when this low of a price.
Lowe's
Lowe's opens Friday at 6am. They aren't giving the store away like last year but they have some very limited but wonderful sales. A few tool sets are buy one get one (usually set then a tool added). Dewalt and Kobalt are included brands. If you are needing new tools or want to expand, this is the sale to take advantage of. Be careful here & Home Depot because some things look like sales, but really aren't.
JoAnn Fabrics
Sales start early! Wednesday at 6 am they are having special door buster deals. Friday they open at 6 am and until noon they have a coupon for 25% your total purchase (minus all the fine print).
Fabrics are of course your best bet here. Ranging from 50-70% off and for the none door buster deals you get the extra 25% off too. Singer Sewing Machines are marked down 55% as well. The lines here are fierce and selection hit or miss given they are often in someone else's cart. Because they have to cut so much fabric be prepared to wait for that and then the line to check out.
Michaels
Opening Thursday at 6pm. Coupon is 30% off (online use code THANKS119) total purchase INCLUDING sale items (but not doorbusters). Friday (online code THANKS219) & Saturday (THANKS519) until noon you will get 25%. If you have full price items your best bet is 40% from 12pm-10pm on Friday (online use code THANKS319)
Highlights: Craft Storage at 60% off! Siser Vinyl Rolls at $9.99ea. Christmas Decor 50% off, most qualify for the extra coupon. Tombow Markers $11.99. Supervalue Canvas Packs $9.99. Gift Ideas: Cricut Air Explore 2 at $199. Cricut Mini Press at $49. Silhouette Cameo 4 Intro offer at $279.99.
Let us know any sales you find and we will add it to the list! Happy Shopping!!