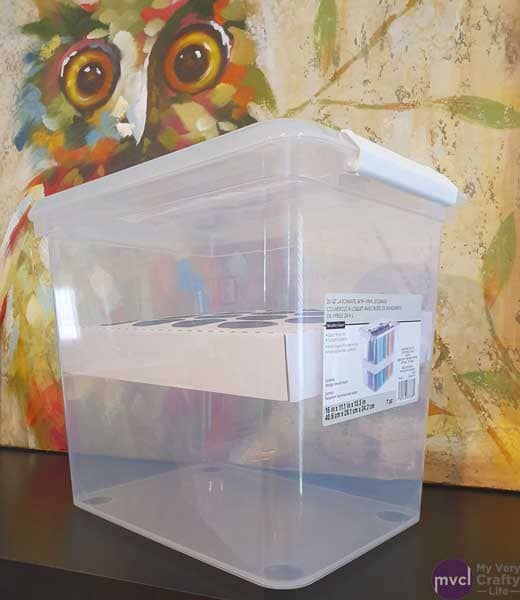 Today's review is all about the Latchmate vinyl storage bin at Michael's. This is a bin I had previously purchased and subsequently returned after not liking it. But after receiving it as apart of the goodies at the All Things Silhouette Conference (review of that HERE) I thought I'd give it another shot and see if it could change my mind.
Bin Specs
Here are all the nitty gritty specs. It is a 26 quart bin. The measurements are 13.5″ high by 16″ deep by 11.1″ wide, at the bottom it tapers to: 12.5″ deep by 8.6″ wide. The bin exterior is plastic and has a locking lid with handle. The vinyl storage part is a cardboard insert with cutouts for 18 vinyl rolls, each roll space is just under 2″.
Positive Notes
Let's start with what I do really like about the Latchmate vinyl storage bin. It comes with a locking lid and this means when you go to pick it up it wont just detach and fall over. That is definitely a good trait to have in a storage bin. It latches securely and fits together easily. The bin is a decent size at 26 quarts. The plastic is thick enough it won't just deteriorate with use and it has built in feet in the plastic to keep it elevated slightly.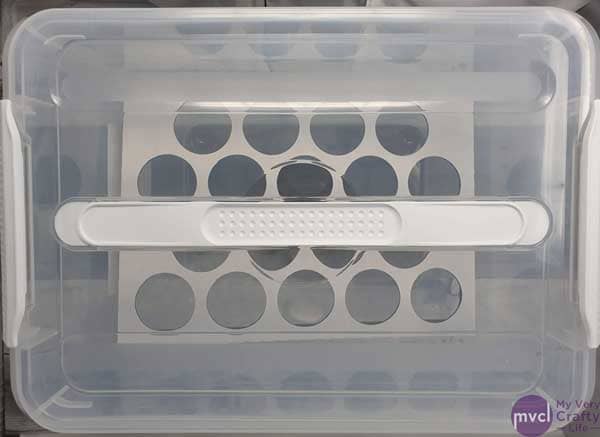 Not So Great Part
Unfortunately this isn't a bin I can recommend for vinyl storage and here are my reasons. The bin itself is fine but the tapering down means you lose a good amount of storage space that could have meant more rolls per bin. Next the insert for the vinyl rolls isn't particularly stable. If you had a roll that fit snug, it would bring the entire insert out with it. Lastly, its just LARGE for vinyl roll storage. To me, its one thing to have a bin to store the rolls but this has so much wasted space it ends up being cumbersome. Finally, it also doesn't fit in the Kallax bookshelves in my office, and those have pretty generous openings, so it won't fit nicely in most bookcases.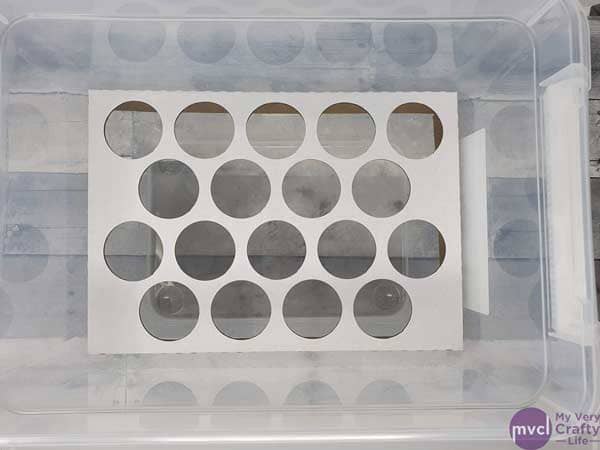 Suggested Improvements to the Latchmate Vinyl Storage Bin
Now with all that said I will tell you how I would recommend it; if they replaced the insert with a more substantial one AND secured it to the walls. I would also like to see it more squared off so more rolls could fit. It would just simply be more functional that way.
As crafters we have a LOT of stuff and organizing things in ways that take up excess space just isn't practical. What do you think of this organizer? Does it work for you?