This week I was asked to make a shirt inspired by the quote "I can't my kid has practice" they wanted something simple, just words, but that suited their style. This is a repeat customer (yay!) who is also a friend, so I do know her style and she LOVES distressed fonts. While that can be a pain, it takes longer to cut and weed, it always makes for an awesome product! I shared this tip (here) for weeding distressed designs. It will save so much time and effort! But let's go through the whole project.
Items you need: t-shirt, heat transfer vinyl, cutting machine & program, weeding tool of choice, lint roller, teflon or parchment, heat press or iron, a way to measure.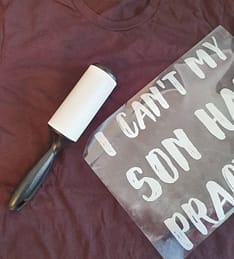 Open your design cutting program. Select the text tool. Type out what you want it to say. In this case it was "I can't my son has practice". Select your font, this is total personal preference! Arrange the words as you like them but using different lines or splitting them into different selections so you can rotate and resize different parts of the design. I wanted this design to be a rectangle, where all the lines are all the same length. That means I used 3 font sizes and used my align tool to line them up. Once you are ready, select the whole design and flip it, so it is mirrored. Most Heat Transfer Vinyl (HTV) will be mirrored, the exception is patterned HTV is mostly not mirrored. Now you are ready to send it to your machine.
Once the machine cuts out the design, you will need to weed it. Using a distressed font means I used my tape trick to do an initial pass to get out the smallest bits and then use my pointed tweezers to finish the weeding. Once you have your design all ready to go on the shirt, you will want to make sure your heat press is at the correct time, temperature and pressure for the HTV you are utilizing. This shirt is Siser Silver and gets pressed at 305F for 10-15 sec med-high pressure.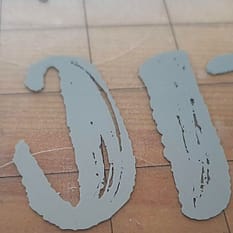 Before you line up your design on your shirt, take a moment to lint roll the shirt and get any bits and pieces off. Then you will pre-press your shirt for about 5 seconds. Not only does the pre-press get the moisture out of the fabric it also creates a really nice smooth service to work with. Now line up your design so its 2-3″ from the collar and centered on the shirt. Put it back in the press, making sure seams and the collar are not under the pressing area (use a pressing pillow if you need too). Then press for 10-15 seconds. Once your press is done, open the press, allow it to cool for just a few second and take the plastic carrier sheet off. And wa-la you have a completed shirt!