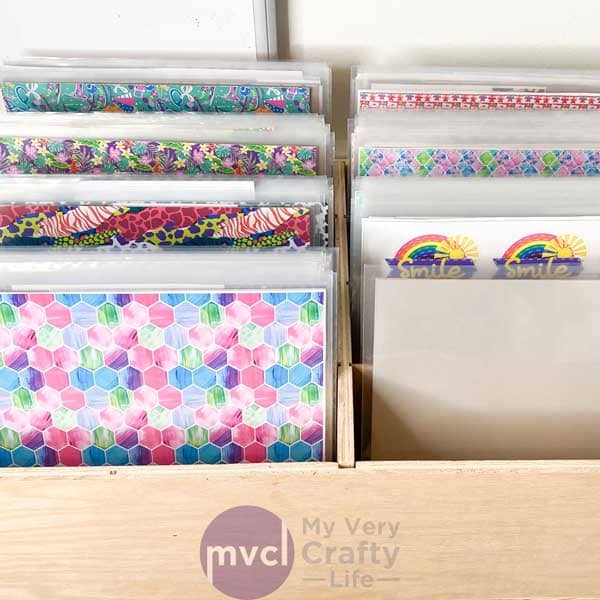 This post contains affiliate links from Amazon, Craft Chameleon & Sparkleberry. What that means is you don't pay anymore but we may get a small commission. Full Details can be found here.
Do you have a hard time finding the ultimate craft vinyl storage solution idea that is right for you? Truthfully, so have I. I have spent years with the same system. It worked! But it wasn't great and didn't end my search for how to store the majority of my vinyl. If you want to see what I have been doing check it out here at in Vinyl Storage 101. My new vinyl storage solution idea is one I have never seen used for this purpose before. I have to say I am super stupid excited about this.
Old Craft Vinyl Storage & It's Issues
First, I want to discuss the issues I encountered with my previous vinyl storage solution ideas were: they were incredibly heavy and it was tough to sort through them quickly and do thing like match them up next to each other. So what I realized I had to do was find a way to store the PRINTED VINYL differently and my rolled vinyl needed to be more accessible so I didn't forget about it. Which is how I ended up with 3 rolls of gold vinyl… oopsy.
When I utilized the system detailed out on my post here by using scrapbooks and scrapbook covers, it worked relatively well. However as my vinyl stash grew those things got mighty heavy to be lugging around. I also kept finding myself removing the sheet protectors to leave on my desk while I worked with a pattern, or 3. I wanted something straight forward, easy to access, not incredibly heavy and that would display my patterns and sheets of 12″ x 12″ vinyl in a great way. And did I hit the jackpot with an idea!!!
New Ultimate Craft Vinyl Storage Solution
In walks (yes it walked into my head!) my new vinyl system storage idea. Now ready for the "oh yeah that makes total sense – why didn't I think of that moment?". I am utilizing record/LP storage solutions! That's right, records are almost the same size as our vinyl sheets are! So why not capitalize on something that is out there but we can re-purpose. If you have been following the blog at all I am all for finding storage solutions in another part of the store beyond the designated "office" or "closet" areas.
It's All in the Details
Now before you jump off to Amazon or your record store I want to tell you about the lessons I learned while coming up with this solution. First you do not want the covers to be too thin or too thick. While the plastic covers are actually made for LP's to go in and out of, they are not created equal.
The ones I like are found HERE. I ordered 2 others before returning those and settling on these. The things I like about them are first and foremost they are flexible, but sturdy enough to not fall apart immediately. They got good reviews and finally they weren't particularly expensive. I paid right around $23 for 100. And 100 is enough to do all my pattern vinyl. I will however order another round in order to do my solid adhesive vinyl.
The next part of this system needed to be a way to get these to stand on end, and not just slouch down and become a mess. The easy answer is chipboard! I ordered 12″ x 12″ chipboard. While you can order this many places, this allowed me to get the sheets cheaper and exact same amount as my sleeves. I had originally ordered packages of 25 but the prices were adding up quickly. For 100 pack it was $37.46 when I ordered. That makes this entire system right around $65.00. And honestly if you aren't a vinyl hoarder like me you can order smaller quantities.
The assembly part is quite easy. You take one LP sleeve, Put in the chipboard then add vinyl on either side. Best part is you can definitely do vinyl on both sides with ease. If you are doing more than 5 sheets of a particular pattern I would give it's own sleeve.
I get asked quite often what is my FAVORITE pattern vinyl. Now I have a few companies that I love. The one I have used the longest, is shown in these photos and so far I use them most for pattern vinyl is Sparkleberry Ink. I love Mandy and her team, she has been a huge supporter and cheerleader for me. You can check out a review I did of her vinyl here. I do also get vinyl from local stores, Craft Chameleon & of course the box I design for at Shine Daily Designs & Vinyl Market.
Storage & Usability
Now for storage! Obviously we don't want our sleeves all over the place or sliding around. I have constructed a rolling cart for my office where the top is essentially a library for this. I will definitely get a blog post together for the cart design for next week. BUT before I came up with this system I wanted to find some options for those who aren't going to go and build a custom cart.
Luckily turns out LP/record collectors are a little crazy and love storage solutions. So to again capitalize one what is already out there I bring you these cool options.
This is by far my favorite option: It allows you to basically have a file of vinyl. This would be a beautiful way to not only store your vinyl but display as art in your work space. This will not work for everyone but it would be amazing if you can.
Second of countless options is a milk crate! I happen to have a few in the attic storage area and tried them out. Be careful on sizing and which one you pick, but worked out great. These will get heavy fast but could easily stay on a shelf or the floor to be sorted through!
Finally there are TONS of great LP and record storage options out there. Seriously I think they are crazier than crafters about storage. You can find so many options in so many price points.
Store Craft Vinyl with Record and LP Storage Solution
So now who is excited about this NEW Craft Vinyl Storage solution? I hope I'm not alone in my crazy excitement over it! I can't wait to see you utilizing this new and definitely improved system!!!