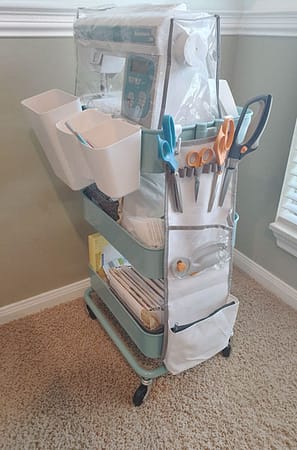 This post contains affiliate links. What that means is you don't pay anymore, but we may get a small commission. Full Details can be found here.
As crafters we have a TON of hobbies. There are ones we try and love and a few that we just don't love or haven't gotten super into. For instance, sewing is one of those for me. It isn't something I hate and I definitely love what I create. But it also isn't something I do regularly. Since I am not doing it daily, I don't want to take up precious real estate with a sewing machine, fabric and all its notions. In comes the wheeled cart!
How I Setup my Cart
I use a 3-TIERED ROLLING CART. It fits my sewing machine perfectly in the top, along with my peddle, cord and needles. I have an auxiliary CRAFT BOX that holds the odds and ends. Fabric is also stored in bins in the closet I store extra craftiness in. In my review of these carts (here) you can see I only recommend storage for these carts, using them to sew on is just not realistic.
Let me take you through my setup of the Sewing Cart.
Top Bin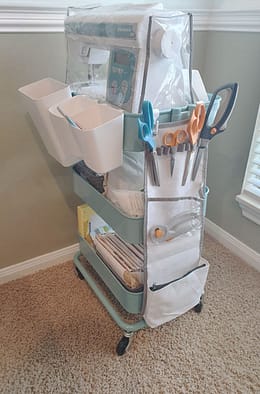 On the top lives my sewing machine, peddle and cord. This makes lifting the machine out easy without having to move other items out of the way.
Center Bin of the Cart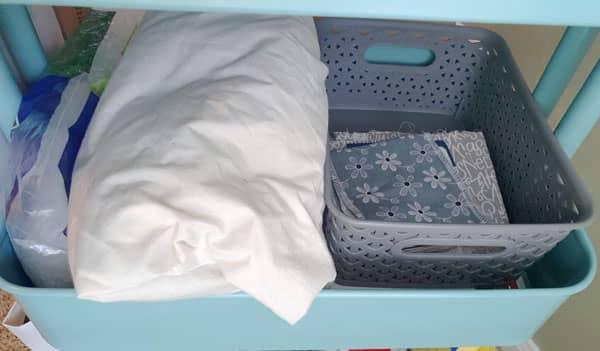 I find the second area the hardest to use. You have to bend down and its at an ackward height for me to see. So here I store my fillers (I like to make neck wraps as gifts) and have a bin for small fabrics.
Bottom Bin of the Cart
For the bottom bin area I put an organizer with my patterns, and then my extras like glue, interfacing, etc. This is very easy to just grab my patterns or the item I need without sorting through anything.
Add-Ons to the Sewing Cart
Everything won't fit in the cart. Therefore I got these bins from Ikea in the Kitchen Section called Sunnersta. If you dont have Ikea nearby, THESE are similar and actually made for carts. I use them for buttons & marking pens and a large one for trash.
The WE R MEMORY KEEPERS ACCESSORY was much smaller than I anticipated when I originally ordered it. However, it fit exactly what I need it too. It has pockets that fits my scissors. Keeping them easy to access. The clear pocket holds my rotary cutter. The bottom pocket I put a bag of safety pins. Since I use those for more than sewing, I like to keep them as handy as possible.
The cart does fill up quickly. We haven't even touched on several things you need to sew with. In addition to the cart, I added on the handy crafting TACKLE BOX! This one went surprisingly well with my cart and holds all the random little items you need when sewing, like threads, needles, clips, etc.
Sewing Notion Tackle Box Inserts
In the tackle box I keep threads in one bin. Therefore, this lets me also pair them with their smaller spool. The second bin holds zippers, tapes, glue, velcro etc. Above all it keeps things sorted and easy to reach. Similarly in the smallest sorter I keep my needles, pins and empty spools. All of this together gives me ease of access to the items I need when sewing a project.
Between these 2 items I am able to keep all my sewing tools together! Resulting in being able to stay organized with easy setup and quickly being able to get my project done.
You can use this idea for crafts and hobbies that you aren't using full time. Some examples are painting supplies, beauty projects and jewelry making. I can't wait to see you what you do with this, so we can compare notes!