This post contains affiliate links. What that means is you don't pay anymore, but we may get a small commission. Full Details can be found here.
Ikea can be a great place to shop, especially for crafters. They have a ton of options with mostly reasonable prices. A hack that came out a few years ago, using the Ikea's plastic bag dispenser to hold rolls of vinyl. The organizer can sit on a shelf or be attached to the wall. If you don't have an IKEA nearby, HERE are similar ones I found on Amazon for $12/2.
The Basics
Let's talk to the basics. It is 17 3/4″/45 cm high by 5 1/8″/13 cm deep by 6 1/4″/16 cm. There are 14 holes for vinyl rolls. Each hole has just under 2″/5 cm diameter. It is lightweight and the base shape keeps it stable on a shelf.
Highlights
I have to admit I fully wanted to hate this product. Fully wanting to tell you under NO circumstances should you buy this. I have been testing it for a little over a week now. And I have put my glitter and specialty rolls in it and placed it on a shelf in my craft room. It's not as ugly as it first appears. Once all the glitter is decorating it, the utilitarian look fades to the background. The holder is stable on a shelf. You could easily hang it with the velcro COMMAND STRIPS. Which is what I will be trying with it next.
Best Use
This is a great solution if you have 14 rolls or less, or you will need purchase multiple. It is a great solution if you like to display all of your vinyl rolls. Keeping in mind you need to have somewhere to put these. The organizers take up a lot of shelf space, at least 12″ wide by 18″ high. However, they are definitely good if you are short on shelf space, yet have an abundance of wall space. Just don't put them too high, or you will need a ladder to reach them!
Downsides
The downsides are it is not exactly the best looking organizer. And I tested just a bit of paint on it and I think in the end will look scratched and messy. It is also restrictive on size. Any vinyl with a core will likely not fit inside the small hole opening. My 5 yard rolls with a core do not fit. Also if you get multiple of these, you will need to find a place for all of them. Lastly, a multipurpose bin, like I used here, will easily hold all of these rolls plus more. For just a few dollars, you could have a much smaller and to me easier solution.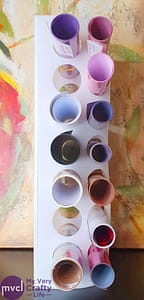 Hack the Hack Option
Hack of the hack. Many people have built towers with these. Some are incredibly successful and pretty. My caution is simple when building you can easily access all the holes. I have seen several that aren't fully using them because they built it where they back holes are not easily accessed.
Conclusion
While I wanted to absolutely hate this solution, it definitely has its place in the crafting world. Just remember if your rolls out are displayed on your wall and you aren't using them a lot, they will get a bit dusty. I am glad I tried it out and will use it on a very small scale.