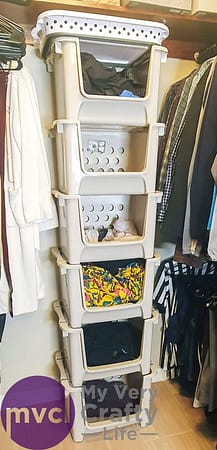 This post contains affiliate links. What that means is you don't pay anymore, but we may get a small commission. Full Details can be found here.
This idea is the number one thing when people get a full tour of my house that they want to implement at home. I cannot tell you how many times I have heard, I need to go buy these now. And then they look at me crazy when I tell them where to find them.
I have not lost my mind and decided that organizing everything is a must. But I will tell you this saves time and ick factor (it's a technical term, I am sure). I sort my DIRTY laundry by load, as I take it off.
Sort Your Dirty Laundry By Load As You Take It Off!
This is not a totally new concept. Countless laundry sorters exist. For me, they all just take up way to much space. And lets not talk about wet laundry in those fabric bags, yuck. Then if you use just one big bin, you have to sort it before doing laundry. I find this "ick" and annoying. Granted I am a clean freak but really who wants to touch dirty laundry over and over again? No one, that's who.
My Dirty Laundry Sorting System
I came up with this system when we purchased our first home 15 years ago. I was searching for a laundry sorter but we did not have the space in our master closet. Even after doing custom DIY organization, the floor space just didn't exist. So I decided to go outside the box. And that box was to the recycling and trash cans aisle of Home Depot, a US based hardware store.
Now this isn't normally a place you go to look for laundry sorting bins. I get that. I truly love shopping the entire store not just what aisles they have labeled for a designated purpose. You can learn more about that HERE.
What I came upon was these recycling bin sorters. My system has now worked in 3 VERY different closet setups. And my bins were a 1 time investment of about $120 USD. But they have lasted 15 years and are still in perfect shape. They even survived 2 cross country moves by movers.
Top Things You Want In Your Bins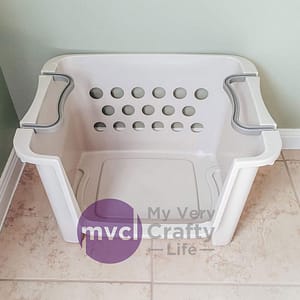 First you want to make sure they are sturdy and easy to clean. For this I do recommend plastic, it contains the ick. And is quickly and easily cleaned when necessary. My husband plays sand volleyball and I often just take the hand vac and clean them out.
Second, you want to make sure they are sturdy. You will be putting items in and want them to hold up and not fall over or into each other during that process.
Next make sure they are STACKABLE without following over. I also prefer they have a handle area or are easily carried. However, do not get ones with lids. I say this with love but you just won't use them. If you MUST have it in your actual bedroom space, that would be my exception. And then I would go with aesthetically pleasing ones, if at all possible. But avoid the extra step if remotely possible.
Last consider the size. Mine stacking bins are approximately 20.5″/53 cm wide x 13″/33 cm high x 13.5″/35 cm each. Fully stacked they are 76″/193 cm tall. When full, this is exactly 1 load of laundry per bin! I do cheat and instead of carrying each bin to the laundry room like I used to do. I dump them in a collapsible laundry basket that I store collapsed on the top like THIS ONE.
Considerations for Your Space
1. What floor and wall space do you have for these. Measure vertically and horizontal space.
2. How do you do your laundry? I do the following separation: delicate, jeans, lights, dark, underwear/socks and towels. You may not need or want to sort like this. But figure out what loads you do, so you know how many bins to get.
3. Do you care about aesthetics? Meaning do you care if they are white, green, purple. When we did this we went for size, not super ugly and cost.

Bins I am Recommending
After 15 years I cannot find the bins that I have. I will say I would love to replace mine BUT I don't want to spend the money to do so.
The following links are to Amazon and are affiliate links.
These are the closest to what I have currently have. AKRO BIN SET OF 2. You can search depending on the color you want for these, what the best price/way to buy them is.
I really like THESE in terms of size and functionality. And they have a lot of colorful options and configurations.
Use a Toy Bin Sorter for Kids Rooms! This may work better than vertical storage if you do not have room in a closet. I can see this also working very well for kids. Bonus you get a bench too!
This is a Great Vertical option if this is outside a closet and with kids.
Labels
While I have used this system for 15 years with no labels. I have made up some SVG's to add to mine. You can download and use them for your own personal usage. SVG's are a cut file for cutting machines. I include a JPG for those who want to trace and cut by hand.
Definitely let me know if you do this! Tag #myverycraftylife #craftyourbestlife on Instagram or Post to our Facebook Page!!
What is your favorite awesome tip you like to share with everyone? I can't wait to hear them!